Point of care study day
21st January 2014
Glenfield Hospital, Leicester
Here you can download the presentations from the Point of Care study day that was held in January 2014. They appear in the order that they were presented on the programme. We'd like to thank the presenters for making them available.
Steven Glover

Sarah Sutton

Dynamed

Clinical Key

UpToDate

BMJ Best Practice

Clinical Knowledge Summaries

Our social media:

Reserve & renew: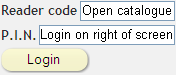 Catalogue search:
Catalogue search may be affected by pop-up blockers