You are here: Homepage
Welcome to the website of University Hospitals of Leicester (UHL) Libraries & Information Services. We serve the health community in Leicestershire by facilitating access to high quality information and offering the highest possible customer service. We are also available to give assistance or advice on any aspect of information organisation, retrieval or use. We play a crucial role in the patient care, research, management and staff development activities of UHL as well as helping to educate the next generation of healthcare professionals. We also serve Leicestershire Partnership NHS Trust, Leicester City Council Public Health staff and the LOROS charity by arrangement.
To find out about the services we offer, click on 'Our services'.
To start accessing information, click on 'Information resources'.
Library news
Staffing over the Christmas & new year period
Find details on our staffed hours at all 3 libraries here. Access outside staffed hours requires a 24-hour tag which can be collected from any site in exchange for a £10 deposit.
UpToDate & DynaMed available to UHL staff
These "point of care" resources provide access to quality evidence summaries. They're available onsite with no password required, offsite via your UHL Athens account or via mobile apps. Full details here (UHL PCs only) or contact us.
Follow us on Twitter (@uhllib) for more news
Work starts on new library at Royal Infirmary
Work has started to create a new library at the LRI to replace the existing temporary library. It will be in what was Odames Ward in the Victoria Building. More details on this exciting development can be found here.

Publication of the week
Keep up-to-date with the latest health care reports and publications by using our publication of the week page.The last few publications will be listed there and you can also keep updated by following our Twitter account.

Reservations & loans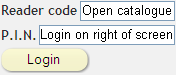 Quick search tools:

Quick search tools may be affected by pop-up blockers