Clinical Librarian Service - Evidence updates - Pain management
Back to the list of bulletins.
An alternative way to keep up-to-date with the latest research and publications in your area of interest is to use the KnowledgeShare system (Athens account required). You can use it to create your own personalised evidence updates and change the settings, when your needs change. This current awareness system puts you in control. We can sign you up to start receiving bulletins if you fill in this form.
Our social media:

Reserve & renew: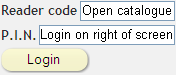 Catalogue search:
Catalogue search may be affected by pop-up blockers