You are here: Homepage > Our services > Free training > Writing for Publication
Writing for publication is an increasingly important part of professional life in healthcare, but it is one which many people are inexperienced at and finda daunting prospect.
This two hour session seeks to make it seem less challenging by investigate the principles of writing and delivering some top tips and encouragement for getting your work out there.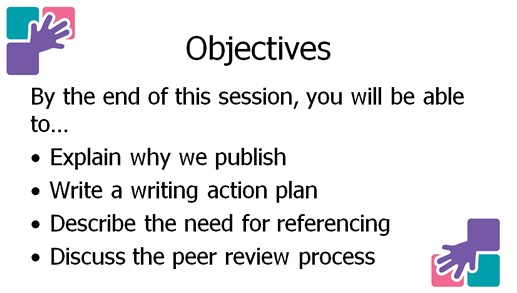 Outline
During the workshop we will explore why we write and what kind of writing there can be done. There will be some protected time to make a start with planning a piece of writing (nutshelling) and a look at how formal research papers are put together.

We will then discuss the importance of referencing, find out what impact factors and 'Altmetrics' are, consider how to decide which journals to publish in and then go through the peer review process.

Throughout we will scatter some top tips, use some light hearted examples and try to encourage you to start writing.
Teaching materials
A handout will be given to you during the session, as will sheets for exercises. You do not need to bring anything with you except a pen.
Impact
This course has been shown by past attendees to increase confidence levels when it comes to writing for publication by over 65%. See more detail on the impact it makes by looking at #uhllibWFP on Twitter.
Our social media:


Reserve & renew: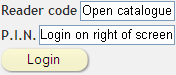 Catalogue search:
Catalogue search may be affected by pop-up blockers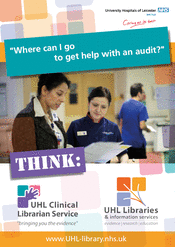 The department for
evidence-based healthcare
in the Leicestershire NHS