You are here: Homepage
Welcome to the web site of UHL Libraries & Information Services (the library service of University Hospitals of Leicester NHS Trust). We support the work, research and educational activities of the health service in Leicester and Leicestershire, including University Hospitals of Leicester NHS Trust (UHL), Leicestershire Partnership NHS Trust (LPT) and Leicester City Council public health staff.
This site will help you find out who we are and where we are (Contact us), what we do (Our services), what resources we can provide access to (Information resources) and how we can help you make best use of these resources (Training). The UHL Clinical Librarian service also have their own site to assist their vital work.
Library news
Below are selected pieces of news. To keep up-to-date with news, please follow our accounts on Twitter.

Library service
Clinical Librarian Service
Our social media:


Reserve & renew: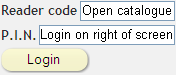 Catalogue search:
Catalogue search may be affected by pop-up blockers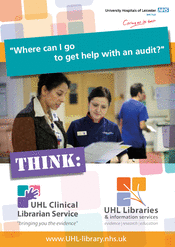 The department for
evidence-based healthcare
in the Leicestershire NHS